Nadia Piave — Voice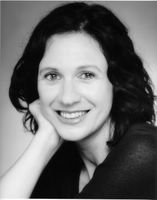 Nadia will be teaching baroque vocal techniques at the 2005 Workshop.
Nadia has studied voice in Sydney and in Italy. Nadia graduated from
Sydney University
with a Master of Performance in 1999. In 1997 Nadia was awarded the
Frederick May Foundation
Scholarship for further study in Italy. She has participated in master classes with Howard Crook, Graham Pushee, Andrew Lawrence-King, Rinaldo Alessandrini, Marco Longhini, Cristina Miatello and Claudine Ansermet. Nadia performs regularly with some of Sydney's finest baroque ensembles including
Salut!
and is a member of the 16th century group
Trio Bassano
. Nadia also performs with Glenn Amer as the Opera/Comedy duo
Cosi Fun Tutti Frutti!
. Nadia holds a part-time teaching position at the
Sydney Conservatorium of Music
.